Dean, Virginia, Bill, Beth, Doug
Doug Powell | Mandolin, Guitar, Vocals
"The first Otter." One day in the mid-'80's Doug approached me at an Austin gig, and suggested he join. He was right! He's had thirty years of music with Austin groups CPR, and Ain't Misbehavin'. The "go-to" guy in many respects, his electric mandolin style makes our sound unique. His wife Stephanie is also an occasional Otter on Bass and Vocals.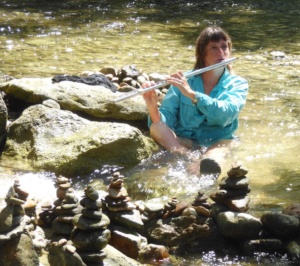 Beth Galiger | Flute, Saxophone, Fiddle, Vocals, Kayaks
She is "classically trained" and plays it, but also in the classical genres of Austin folk circles: plays rock-a-billy with Jon Emery's big bands, jazz with Slim Richie's Jazz Pharaohs, and folk with everyone! Also a great session player, road musician, and river rat!
Beth, K'ville Folk Festival Canoe Trip Photo by Guntram Gudowius
Dean Stinsmuehlen | Bass, Vocals
Original bass player for Balcones Fault, 1970's Armadillo Show Band! Now an Otter!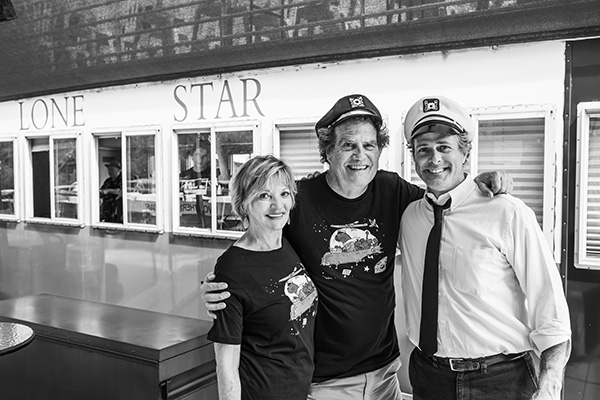 Virginia Palmer | Percussion, Vocals, Energy!
Oliver Steck | Trumpet, Accordion, Vocals, Acrobatics
Bobby Kallus | Drums
Occasional Otters:
Richard Bowden | Fiddle, Mandolin, Vocals
A cross between mad scientist and gypsy fiddler, his tour of duty with the Austin Lounge Lizards makes him great Otter material! We're lucky he's not in Woodstock, New Orleans, or Oregon. Or is he?
John Inmon | Electric Guitars, Vocals
John is mostly a "studio Otter." My favorite guitar player. His layered sound and brilliant musicianship has been heralded for thirty years. He's been the "house band" for the best of Texas: Michael Martin Murphey and Jerry Jeff Walker, you name it. He's penned great songs, and is also active as a producer.
Bob Livingston | Bass, Vocals
"Cowboy Bob," the original "Lost Gonzo" of the early cosmic cowboy era! Side-kick to this day for Jerry Jeff Walker, he's come out on his own with his fabulous "Cowboys and Indians" album and project: applying thirty years of experience in India and the American West thru musical ambassadorship. We're lucky to get him when we can.
Paul Pearcy | Percussion, Drums, Vocals
"Pablo" is one of the most sought after percussionists in Austin, for sessions and gigs. Honored several times as "Best Drummer" in Austin Chronicle Music Polls, he's also a top notch studio producer. I know him as a boating dude, as well, former board member for the Texas River School, and good friend. We wish him luck in New Mexico!